Pirate Phrases - Famous Pirate Speech, Phrases and Meanings
Aye - Yes.
Avast - "Stop and pay attention."
Ahoy ! - General greeting phrase of the pirates.
AhoyMatey / Ahoy, me Hearties! - Same as "hello my friends".
Blimey ! - Expression of surprise.
Belay -prevent/stop/ignore.
Buccaneer /Corsair - Another name for Pirates.
Blow me down ! - Expression of disbelief.
Booty - Gold, jewels, treasure.
Davy Jones' Locker - Legendary place on the bottom of the sea, afterlife for pirates and sailors.
Dead men tell no tales - Leave no survivors.
Feed the fish - Indicating someone's death.
Head - Ship's toilet.
Heave Ho - Popular singing phrase.
Hornswaggle - Phrase that describes defrauding and cheating someone.
Jacob's Ladder - Rope that is used to climb onto ship.
Jolly Roger - Pirate flag with skull and bones on it.
Lad / lass / lassie - Younger person.
Landlubber - person who doesn't know how to sail.
Letters of Marque - official government papers that endorse the piracy.
Man-O-War - Ship that is outfitted for battle.
Marooner - Besides describing person being marooned on a island, it also refers to the man who started his pirate career after deserting from military or slavery.
Old Salt / Seadog - Experienced pirate.
Privateer - Pirate that is endorsed by government.
Savvy ? - "Do you understand and do you agree?"
Scallywag / Scurvy dog - insults.
Smartly - "Do something quickly."
Shark bait - Person who will soon die.
Shipshape - Phrase indicating that everything is "cleaned up and under control".
Shiver me timbers !- "Holy Crap!"
Son of a Biscuit Eater - Insult.
Thar she blows ! - Phrase spoken when sighting a whale.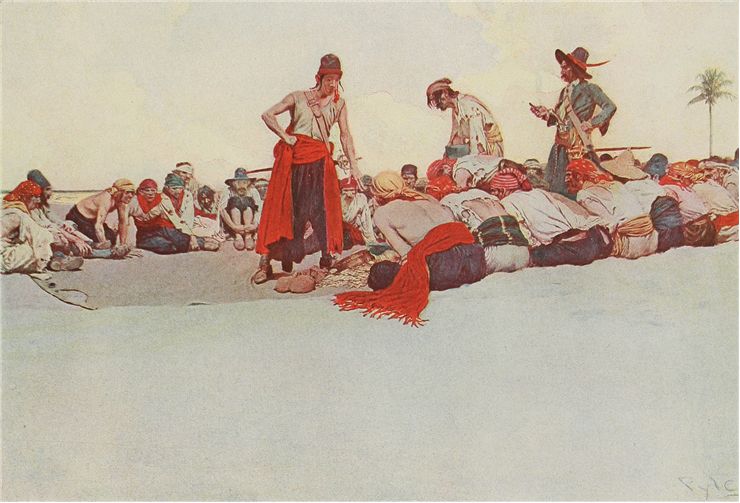 Three sheets to the wind - Describing someone drunk.
Walk the plank - Death punishment.
Yo Ho Ho - Cheerful phrases.
Arrack /Bumboo/Grog - Favourite pirate drinks.
Cackle Fruit /Doughboy/Hardtack/Junk - Names of favorite pirate foods.