Anne Bonny - Female Pirate
Anne Bonny (born on March 8, 1702, died possibly on April 1782) was an Irish woman and one of the most famous female pirates during the 18th century era that is today most commonly known as The Golden Age of Pirates. There are very little verifiable historical facts about her, and much of her earlier life is still shrouded in mystery. Most famous information source of her life and comes from the 1724 book called "A General History of the Robberies and Murders of the most notorious Pyrates", which was very influential for popularization of many pirates in England and the world.
Anne was born on March 8, 1702 (some reports mentions dates between 1697 and 1705) in Kinsale, Ireland, as a daughter of the attorney William Cormac and his maidservant, Mary. After his extramarital scandal became known, he and Mary decided to continue their life in the New World. After moving the family to the plantation in Charleston, South Carolina, William started his career as a merchant. To his dismay, Anne's violent and defiant nature made him to disavow her when she against his wishes married smalltime pirate named James Bonny. After James realizing that his marriage will not bring him monetary gain from Anne's father, newlywed couple moved to the New Providence Island in Bahamas. There in the popular pirate hideaway, Anny became friends with many pirates and she felt betrayed when she found out that her husband started working as an informant to the Governor Woodes Rogers in the summer of 1718.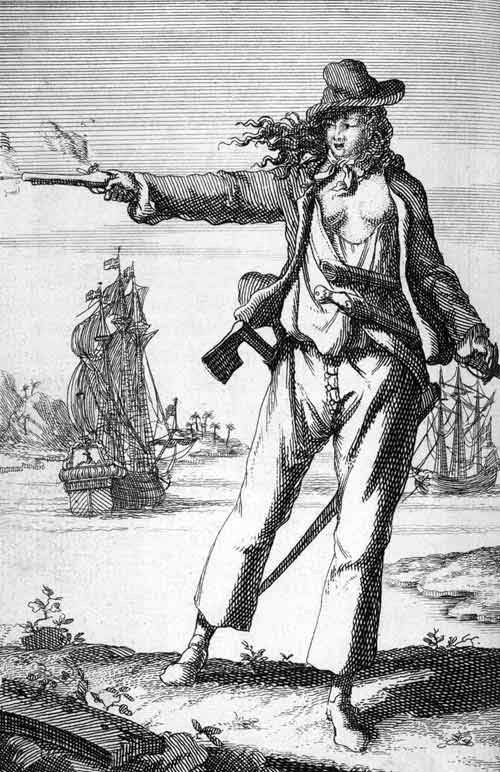 After mingling with the pirates on the Bahamas, Anne became friends with the pirate captain John "Calico Jack" Rackham, who sailed on his sloop called "Revenge". After becoming his mistress she sailed with him, and gave birth to her first child in Cuba. Exact information about her baby is not known today - conflicting reports tell that baby either died on birth or that it was abandoned. After returning to the New Providence, her husband James Bonny captured her and demanded from Governor Rogers that she deserved to be flogged for adultery. Anne indeed received sentence for flogging, but Captain Rackham managed to free her and escape to the seas on their ship. During the several next years, Anne Bonny and another female pirate Mary Read became known across the Caribbean as fierce pirates. They took part in combat alongside men, and were much respected among their crew (and feared by the officials and military personnel of the Caribbean).
Good fortunes of Captain Rackham and Anne Bonny came to end in the October of 1720, when English military ship under the command of Jonathan Barnet managed to surprise pirates. He managed to capture entire crew of Rackhamship by finding them all too much drunk for combat. Everyone from the Bentham crew was promptly sentenced to death by hanging, and only Anne Bonny and Mary Read managed to get the temporary stay of execution until they gave birth to their children. Mary Read soon died in prison from fever, and exact fate of Anne Bonny was never proven in the historical records. There is a strong possibility that she also died in prison, but "Oxford Dictionary of National Biography" stated that her father ransomed her and she continued her life in South Caroline where she gave birth to 10 children until her death on April 22-24, 1782.
Today, Anne Bonny, her friend Mary Read and Irish chieftaness Grace O'Malley are remembered as one of the most famous female pirates of all time.